Where can I order a stola?
At the moment stola's are not for sale, because I am mainly working on my book. When they are for sale I will post it on this page. Of course it is much more enjoyable to design your own stola and crochet it. This way you will know it will be perfectly your own style and colours.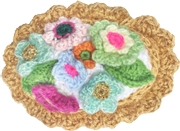 Where can I order patterns?
There are several crochet kits and pattern booklets available in my webshop.
Where can I buy your book?
My book is available in the webshop now.
Can I facilitate a workshop myself?
I enjoy giving workshops on different locations. You can always email me. I like to give workshops on places where yarns are readily available, so that there will always be enough material for an optimal result.